Quickly Learn What It Takes to Successfully Rent Out Your Vacation Home and How to Maximize Your Revenue
Sign up below to receive our educational newsletter and get instant access to download our FREE Insider's Guide to Renting Your Vacation Home.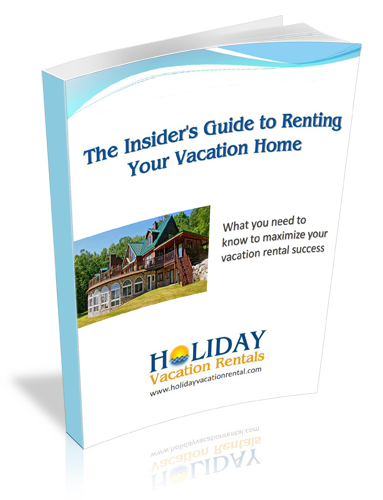 Our FREE guide is for vacation home owners who are either thinking about or already renting out their home when not using it.
While renting our your vacation home can be a great way to offset the costs of homeownership, the challenges can be daunting.
But renting our your vacation home doesn't have to be hard!
The Insider's Guide will walk you step-by-step through what you need to know to achieve vacation rental success!
 Ensure you've established a foundation for success by self-assessing your readiness in 11 key aspects of renting your vacation home.
 Should you rent-by-owner or partner with a pro rental management company? Compare the pros and cons with 15 considerations to help you decide which option is right for you.
 Learn the 6 things you should be doing to maximize your revenue.
Gain actionable insights on things you need to know, including: laws and regulations, insurance, taxes, emergency preparedness, security, payment collection, check-in/our procedures, and advertising and marketing.
"Renting our your vacation home can be a great way to offset the costs of homeownership. The challenges of getting started can be daunting, but we want to help you easily overcome the obstacles and quickly get on the path to success. Our free 30-page guide will tell you what you need to know and give you a clear direction forward."
© 2019 Holiday Vacation Rentals