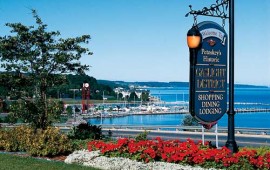 The city of Petoskey, with its quaint storefronts and scenic views of Little Traverse Bay, may offer photographers with a new obsession! The Petoskey area is known for its stunning sunsets, crisp clear waters, beaches, boating, sailing, and windsurfing.
Just a few minutes west of Petoskey is the community of Bay Harbor, with upscale shops, golf, and the largest fresh water yacht basin in North America.
There's a wide variety of shopping opportunities in downtown Petoskey with boutique shops and galleries. The Crooked Tree Arts Center offers exhibits and special events. Casual and fine dining restaurants overlooking the bay will delight your dining pleasure. While strolling Petoskey's Gaslight District is popular in the summer, locals also know the magic to be found downtown during the Holiday Open House festivities in December.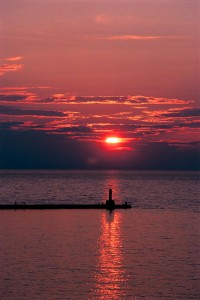 At Bayfront Park, you can watch the ships roll in and out of the marina, take the kids to the playground, or walk along the pier. The Little Traverse Wheelway is a great place to take a walk, run, or bike ride along the shoreline. Nearby the waterfront is the Bear River Valley Recreation area, where you can kayak the whitewater or take a relaxing stroll along the river. The Petoskey State Park boasts a beautiful sandy beach along the bay between Petoskey and Harbor Springs.
Find your favorite gaming action and the nightclub at Odawa Casino Resort, or catch a show at the Petoskey Cinema.
While the Petoskey area is bathed in the quiet and quaint maritime culture, there's another world of entertainment to be found just a short drive away, including Michigan's largest indoor water park, Avalanche Bay.
The city and Michigan's state stone, the Petoskey stone, are named after Chief Ignatius Petosega, whose father was a French Canadian fur trader and mother an Ottawa native. If you search along the area's beaches, you just might find a Petoskey stone, a beautiful fossilized coral!
Get Our FREE Insider's Guide to Vacationing in Northern Michigan!
Contact Us
If you're ready to get started planning your Up North vacation and want to find the perfect accommodations for your family or group, contact us today to see what we can do for you!
Phone: 231-242-0730