Ready to start planning your vacation to Northern Michigan? Renting a vacation home is an increasingly popular means of accommodation for families and groups of friends looking to get away together. Holiday Vacation Rentals offers a wide selection of cottages, cabins, condos, and luxury home rentals to fit your needs and budget. Learn about the benefits of renting a vacation home and options available below!
Benefits of Renting a Vacation Home
It's little wonder vacation rentals are gaining in popularity. It's usually less expensive for larger groups to rent a vacation home than to book lodging at a hotel or resort with comparable benefits. Plus, there is typically more space, greater comfort, and far more privacy.
Another major benefit is the ability to dine in. During a week's vacation, having your own kitchen to prepare meals rather than having to go out to restaurants can easily translate into hundreds of dollars in savings just on food alone.
Some vacation rentals also welcome pets, so you can bring your loyal companion along and save on boarding costs.
Other perks of vacation rentals include private beach access, close proximity to the ski slopes or golf course, or community privileges like tennis.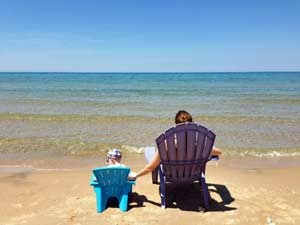 Renting a vacation home is a fantastic way to experience beautiful northern Michigan. With a vacation rental, you can truly vacation like a local!
You should also be aware that some of the things you might expect to find at a hotel or resort aren't included with a vacation rental. You won't have room service! If you rent a beach house, beach chairs and beach towels may not be provided. Be sure to plan accordingly. Tip: Also feel free to ask us for our recommendations on what to bring along.
Be sure to start planning early! Many people begin planning their summer vacations right after the New Year, and there are also guests who rent the same house for the same block of time every year. Make sure you start early to have your choice of the largest selection. Tip: Ask us about early booking discounts that may be available on some properties!
What You Can Expect from Holiday Vacation Rentals
All of our homes come complete with a fully equipped kitchen so you'll have the option of dining in. Linens, bath towels, TVs, and starter toiletry products are also included with every rental. We provide complimentary hand soaps, shampoo and conditioner, and facial and toiletry tissues. We'll also get you started with cookies and coffee!
Many of our rentals also include DVD or Blu-Ray players, videos, books, and games. Many are also equipped with a washer and dryer, and most have outdoor gas or barbeque grills.
We provide housekeeping and linen services. Your rental will be cleaned and stocked for your arrival. Housekeeping and laundry service may also be available during your stay by special arrangement.
Housekeeping Standards and Practices
Holiday Vacation Rentals is a proud member of Vacation Rental Housekeeping Professionals (VRHP). Learn more about our certified professional housekeeping standards and practices.
Rental Property Ratings
As you browse our selection of vacation rentals, you'll see a prominent star rating with each property description. Learn more about how we rate our rental properties.
Concierge Services
Holiday Vacation Rentals offers a wide variety of concierge services. See what we can do for you!
Property Damage Protection
When you book a rental home with Holiday Vacation Rentals, Property Damage Protection is included in the rental price. Learn more about the benefits of our Property Damage Protection Program!
Rental Policy
To view our rental policies, terms, and conditions, please click here.
How to Book
You can make your reservation online, by email, by phone, or in person (click here for contact information and our office location). During summer, our homes typically rent for weekly periods. Call us for availability information on 2- to 4-night minimum stays or if you need help finding an available property to reserve.
We accept VISA, MasterCard, and American Express credit cards, as well as personal checks for reservations made more than 30 days in advance.
Experience Northern Michigan!
Plan a family vacation that everyone will love. Escape to northern Michigan and the picturesque beauty of the Lake Michigan coastline and its quaint coastal villages. Take enchanting scenic drives, climb majestic sand dunes, hit the beach, enjoy the thrill of a water park, or explore historic forts and lighthouses. Enjoy fabulous restaurants, browse unique art galleries and shops, or enjoy some performing arts. Hit the ski slopes or enjoy the solitude of some cross-country. Challenge yourself to a game of golf, hike the North Country Trail, or bike along the lakeshore. Book a Holiday Vacation Rental accommodation and experience a vacation like no other!
Get Our FREE Vacation Guide
---
Sign up for our newsletter and download our Insider's Guide to Vacationing in Northern Michigan:
Contact Us
If you're ready to get started planning your Up North vacation and want to find uniquely suited accommodations for your family or group, contact us today to see what we can do for you!
Phone: 231-242-0730