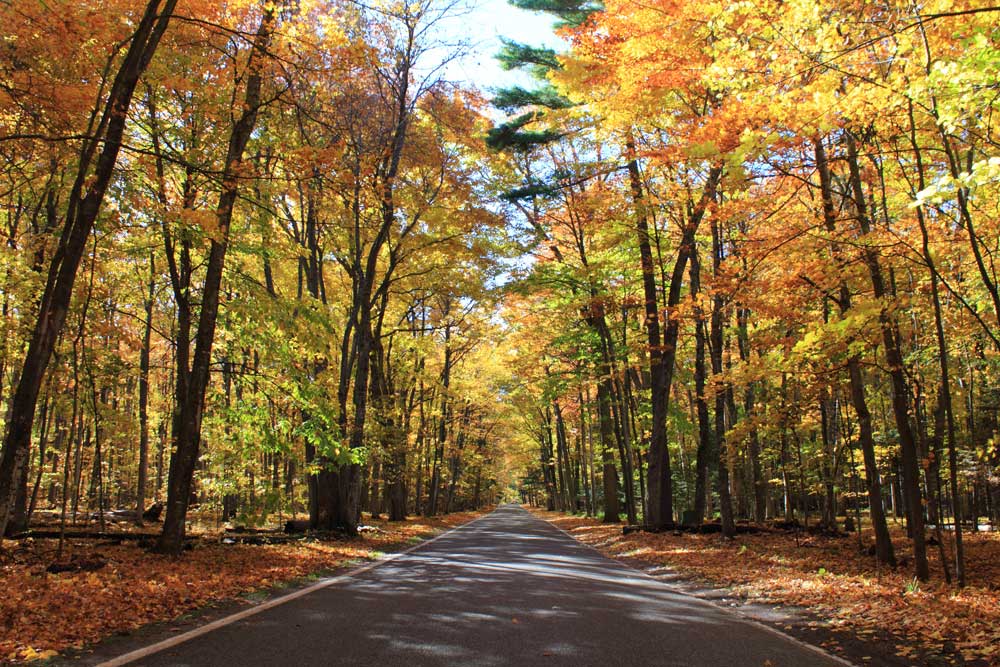 The famous "Tunnel of Trees" stretches 20 picturesque miles from Harbor Springs to Cross Village. Twists and turns along this Lake Michigan shoreline highway offer thrills to automobiles and bikers alike. Leisurely traveling along at 40 miles per hour, you will catch breathtaking glimpses of majestic Lake Michigan and find an abundance of photo opportunities while counting all 137 winding curves from start to finish.
There are many great destinations along the route to enjoy. Five miles north of Harbor Springs at Pond Hill Farm you can enjoy hay rides, meet friendly fall animals, sample Michigan wines, or shoot the squash rocket.
Relax on the public beach nestled along Lake Michigan at Middle Village Park in Good Hart and stop in the Good Hart General store for their famous pot pie.
Finish your journey in the historic town of Cross Village, one of the oldest settlements in Michigan, to experience unique shopping, great food, and a culture rich in Ottawa Native American history.
The fall season in the Tunnel of Trees offers a one-of-a-kind experience to celebrate the changing of summer green trees to endless shades of red, orange, and bronze. Mother Nature alone determines when the time is right for the changing of the colors, but look for the change to happen sometime from mid-September to mid-October! Be sure to plan a color tour through the Tunnel of Trees this fall.
Get Our FREE Insider's Guide to Vacationing in Northern Michigan!
Contact Us
If you're ready to get started planning your Up North vacation and want to find the perfect accommodations for your family or group, contact us today to see what we can do for you!
Phone: 231-242-0730