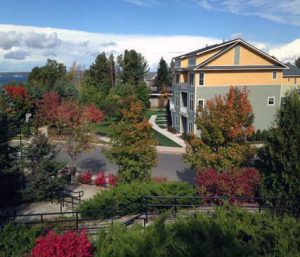 The Water Street Condominium Association in Petoskey, Michigan, is located near Bayfront Park directly along the Little Traverse Wheelway. Step out your door and bike or stroll this path along the waterfront! Just a very short walk and you can watch the waves crash over the pier, enjoy the sunset over Lake Michigan from the shoreline, or watch the boats sail in and out of the Petoskey City Marina.
Also just a short walk away is the Bear River Valley Recreation Area, where you can take a relaxing hike along the riverside trails or take a thrilling kayak ride down Bear River. The Water Street Condominiums are just a few blocks from beautiful downtown Petoskey, where you'll find unique shops, galleries, and restaurants. And just a few minutes' drive northeast along Little Traverse Bay, you'll find Petoskey State Park, a popular spot for escaping to the beach for a day.
Water Street Condominiums are located at 200 W Lake St, Petoskey, MI 49770.
Birchwood Property Management is proud to provide the care, maintenance, and condominium association management for Water Street Condominiums. Contact us today to learn more about our professional property management services!
Contact Birchwood Property Management
Association Manager: Jared Hammond
Phone: 231-242-1818
Fax: 231-242-0735
Learn More About Birchwood Property Management
For Owners
Covenants, Regulations, and Forms