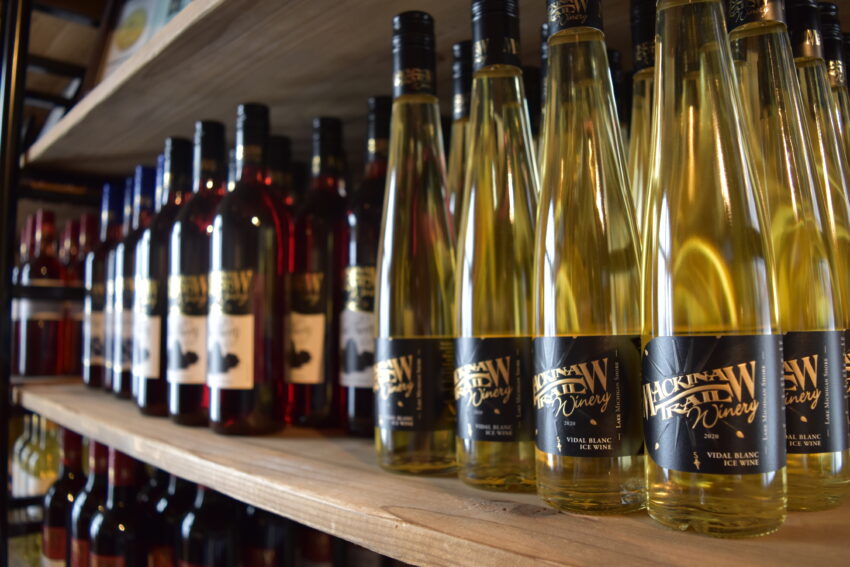 Michigan's unique climate influenced by the Great Lakes makes it an ideal location for producing wine. Northern Michigan is home to several of the best wineries in the state. 
Mari Vineyards – A visit to Mari Vineyards on Old Mission Peninsula north of Traverse City will make you feel like you're in Italy with its richly decorated estate house. You can sample the current selection at their tasting room bar, enjoy wine by the glass with friends or take a tour of their production facility and wine caves. 
Bowers Harbor Vineyards – This family-owned and operated vineyard is on the site of a former horse farm. Visit the tasting room inside the former stables to sample their many varietals including Riesling, Chardonnay, and Gewurztraminer.
Black Star Farms Suttons Bay – Black Star Farms is a 160-acre winery estate in Suttons Bay. This environmentally conscious vineyard produces over 40 European-style wines and brandies while preserving the agricultural integrity of the land. They have a tasting room, inn, and cafe as well as nature trails to enjoy.
Chateau Fontaine – Located in Lake Leelanau Chateau Fontaine won international recognition for its white wines and white rieslings. You'll also find a cherry wine made from the region's famous cherries. Visit their tasting room to sample their award-winning wines.
Brys Estate Vineyard and Winery – Brys Estate Vineyard and Winery is located on Old Mission Peninsula north of Traverse City on a former 1890 homestead. Today the old buildings have been restored and a 155-acre vineyard with 53,000 vines grows on the property. They're committed to producing the regions' finest red wines. Visit their old-world tasting room or unique Upper Deck with a panoramic view of East Grand Traverse Bay.
Maple Moon Sugarbush and Winery – You won't find any grape wine at Maple Moon, America's only maple winery. Their unique wine is made from the natural sugars in the maple syrup tapped from their sugarbush in Petoskey. They have a tasting room where you can try this one-of-a-kind vino.
Mackinaw Trail Winery – Mackinaw Trail Winery produces its award-winning wine at its state-of-the-art facility in Petoskey. Wine isn't their only focus. It's also important for them to give back to the community by supporting non-profits that help the local agricultural industry. They have three tasting rooms located throughout Northern Michigan.
Petoskey Farms Winery – Petoskey Farms Winery tasting room features a patio with a spectacular view of their vineyard, and Northern Michigan's beautiful rolling hills and countryside. You can even enjoy a wood-fired pizza with your wine. They have several varieties of reds, whites, and fruit wines.
Walloon Lake Winery – The tasting room at Walloon Lake Winery is in a beautiful rustic building built from wood harvested and milled on their family farm where they also have a vineyard. Their small-batch wine made from cold-hardy grapes is produced and bottled on site. 
Pond Hill Farm – They feature a variety of Michigan red and white wines in their tasting room. They also offer hard cider. Grab a bite at their Garden Cafe where they serve farm-fresh dishes. At their farm store, you can shop for a variety of fresh produce and canned goods.
Crooked Vine Winery – A beautiful winery tucked away north of Petoskey, MI in Alanson, Michigan. A quaint tasting room offering wines that range from dry reds to whites that are semi-sweet and sweet. Crooked Vine Winery is also a proud Vacation Club member, offering 10% off wine tasting or a glass of wine. Learn more about our Vacation Club here.
Visit Petoskey.Wine to learn more about wineries and tours in the Little Traverse Bay and Lake Michigan coastal region.