Free Rental Guide!
Learn what it takes to rent your vacation home and maximize your rental income.
Free Rental Guide!
Learn what it takes to rent your vacation home and maximize your rental income.
The "new normal" of COVID-19 has increased the importance of pre-arrival inspections and maintaining property standards for the health and well-being of our rental guests.
Our mission at Holiday Vacation Rentals is to anticipate our guests' needs so they can feel safe and warmly greeted. We strive to communicate with our guests to understand their expectations and deliver exceptional quality of service. This means taking an interest and truly listening to things said and unsaid.  While guests take vacation getaways for different reasons such as a change of pace, new experiences and relaxation, they all share the luxury of leaving cares at home and making new memories. It's the inspector's mission to support our goal for guests to have fond memories. Details matter — planning and inspections are a part of that mission.
Pre-Arrival Planning
Conveying a sense of personal care and attention to the guest is an important aspect of pre-arrival planning. Pre-arrival planning begins with the first contact a person has with Holiday Vacation Rentals.  It means listening carefully to help the guest find a rental that meets their needs and delivering a level of service that exceeds their expectations.
Are there young children coming to a beach property? Perhaps you can provide sand toys.
Are the guests looking forward to bonfires on the beach? Provide them with chocolate, marshmallows and graham crackers for s'mores.
Is there a special event or celebration? Help to make it memorable with a personalized note and gift.
Is there a pet or special needs service dog? Provide a treat, bowl or doggy doo-doo pickup apparatus and disposal bags.
Pre-Arrival Staging
Every home's standard pre-arrival inspection should include two important elements: Welcoming and the Health, Safety, Housekeeping Inspection.
Welcoming
Lighting the way. We turn on porch and entry foyer lights, as well as lamps in rooms to accent the home and welcome guests. Nobody likes walking into a dark property.
We inspect the outdoor entryway to ensure it is clean and free of cobwebs and debris.
Deck and patio furniture are staged.
A full supply of guest amenities is stocked in bathrooms and kitchens.
Welcome bags are placed with complimentary coffee, cocoa, popcorn and cookies.
Coffee table readers and information about discounts at area activities and special events are easy to find.
TV and remotes are working.
Music is turned on to play softly in the background.
The Vacation Club Card with discounts at recommended restaurants, wineries, retail shops and area attractions provide guests with added value.
Pre-Arrival Health, Safety, Housekeeping Inspection
Outdoors – walks/decks/drive are cleaned.
BBQ grills are cleaned, propane is checked and a full extra tank is supplied.
Hot tubs are serviced by a Certified Pool Inspector.
Light bulbs are checked (interior and exterior).
Heat or air conditioning is set to a comfortable temperature.
Blinds/curtains are opened.
Windows and mirrors are clean.
Clocks are set to the correct time.
Emergency LED lights are set to auto-on when there is a power failure. A dark home that you are unfamiliar with can be both frightening and dangerous.
Carbon monoxide detectors and fire alarms are tested.
The fire extinguisher's last service date is current.
Reported maintenance items have been repaired.
Review the housekeeping checklist to ensure that all high touchpoints like remotes and light switches have been cleaned and disinfected.
Review the housekeeping checklist to ensure that bathrooms and kitchens have been cleaned and sanitized.
Final black light inspection of bathrooms and kitchen to ensure that they have been properly cleaned and sanitized.
Pre-arrival planning and inspections are crucial to providing guests with a great vacation experience from the first interaction until departure. Inspections give inspectors the chance to help with guest confidence that their vacation rental is safe and clean with a welcome tailored to their visit.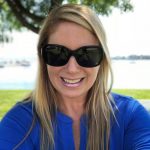 Emily Comer joined the team in June 2019. Emily works with reservations and property management services. Emily earned her BA in Art History at Vanderbilt University. After college she moved to New York to work for Christie's where she assisted auctioneers during multi-million dollar sales. She gained experience in online auctions by working for Major League Baseball, Advanced Media before returning to school to earn her master's in early childhood education. She taught special education for ten years before deciding to move to northern Michigan full time. Emily spent a year at First Community Bank in Harbor Springs before joining HVR. She enjoys skiing and snowshoeing in the winter, boating and hiking with her dog, Bob Wiley, in the warmer months. She could not be happier living up north and enjoying all that Harbor Springs and the surrounding area have to offer.