If you're like me, you wouldn't dream of going on a vacation without your 4-legged best friend. My little buddy, Bob Wiley (named after the main character in the movie What About Bob?), might be baby stepping to new experiences but he definitely wants to trot along wherever I might lead him. Here are some of Bob Wiley's favorite activities in the Harbor Springs/Petoskey area.
Pond Hill Farm, Harbor Springs
Fortunately, the farm is mostly pet friendly. I say mostly because dogs are not allowed inside the restaurant and market (I guess they're worried about the food or something…). There's lots of wooded trails and the Gnome Hunt to keep his tail wagging. He can enjoy hanging out by a fire in the Fall while I enjoy a much-earned Blueberry cider.
Zoll Street Beach, Harbor Springs
If your pup likes to swim (Mr. Wiley does not!!), this beach is actually dog friendly. You can park right by the beach then take a stroll through Wequetonsing to see historic (and not so historic) summer cottages. They even provide poop bags and a couple of rubbish bins to encourage you to pick up after your pooch.  It's a nice flat walk with beautiful homes on your right and the sparkling blue harbor on your left. Just remember to keep your dog leashed at all times.
There are eleven sections of the North Country Trail (NCT) between Harbor Springs and Mackinaw City. Some are easier and shorter than others, but all are quite enjoyable! Dogs are required to be on a leash while on the trail. Bob Wiley highly recommends Section 7 by Wilderness State Park. It's a beautiful hike along a ridge with seasonal views of the lake. After the hike he likes to sit outside at Petoskey Brewing while I enjoy craft beers (be sure to try a Horny Monk or Cranium Crush! Really anything, you can't go wrong!) and delicious pretzels.
The Back Lot, Petoskey
I'll include this one but full disclosure: Bob Wiley does not do well in this environment. First of all, it's not actually pet-friendly in the winter unless you want to sit outside (the beer and tacos are inside). In the summer it can get crowded which for pups with anxiety or resource guarding, this place can be a total nightmare. I brought him once and he could not settle. We saw lots of other dogs relaxing and enjoying time with their families so if your buddy can handle it, go and enjoy the plethora of food trucks and variety of beers on tap.
Harbor Springs Farmer's Market
From Memorial Day Weekend to late October, you'll find Mr. Wiley wagging his tail as I pick up our favorites at the market. The market can be busy so your pup will have many opportunities to sniff new smells and get extra pets from total strangers. After a trip to the market Bob Wiley is pretty worn out from the socialization. He always gets offered treats from Pet Pawps (he loves them at home but won't eat in public…). The Woofies are a great treat; he definitely recommends them! Tell 'em Bob Wiley sent you.
There's so much to do and enjoy Up North! Contact Holiday Vacation Rentals if you're looking to travel with your pooch! We have lakefront and lakeview homes that can accommodate up to two 4-legged family members.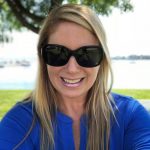 Emily Comer joined the team in June 2019. Emily works with reservations and property management services. Emily earned her BA in Art History at Vanderbilt University. After college she moved to New York to work for Christie's where she assisted auctioneers during multi-million dollar sales. She gained experience in online auctions by working for Major League Baseball, Advanced Media before returning to school to earn her master's in early childhood education. She taught special education for ten years before deciding to move to northern Michigan full time. Emily spent a year at First Community Bank in Harbor Springs before joining HVR. She enjoys skiing and snowshoeing in the winter, boating and hiking with her dog, Bob Wiley, in the warmer months. She could not be happier living up north and enjoying all that Harbor Springs and the surrounding area have to offer.