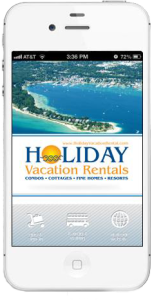 With the Holiday Vacation Rentals App, you'll be able to discover information northern Michigan for your Up North vacation, even while on the go.
Simply download the app and use it as a visitor to find more information about northern Michigan events, places to eat, and activity recommendations. Favorite beaches, hiking trails, fishing spots, ski areas, and much more can be viewed on a map to the location. You don't have to be a guest of Holiday Vacation Rentals to get this customized experience.
If you're one of our rental guests, you'll also find unique property information specific to your vacation rental within the app, including maps and directions, check-in information, and other guidance to make your stay even more enjoyable.
To discover why more and more people are choosing vacation rental homes for their travel accommodations, click here!